** **Spoiler alert below for those of you who have not beat the Sega CD Eternal Blue** **
I saw some time back someone in a random LUNAR related thread here made a post about how they remembered that a GamePro issue in the mid-90s had a mini-guide for beating the Sega CD Eternal Blue. Unfortunately I cannot remember the exact thread but it was from about roughly three to four years ago. Well I remember that guide well, as back in the 90s I ripped those pages out of the book and saved them encased in a magazine protector sleeve.
Recently I was digging through some boxes of old stuff and found them. They have to had been in that sleeve for around 15 years now. I threw them on an older flat bed scanner. These are from the June 1996 issue of GamePro and if I remember correctly this was the last LUNAR related item to appear in a GamePro magazine until the announcement of TSS remake; consider that June '96 was quite some time after the US release of Eternal Blue.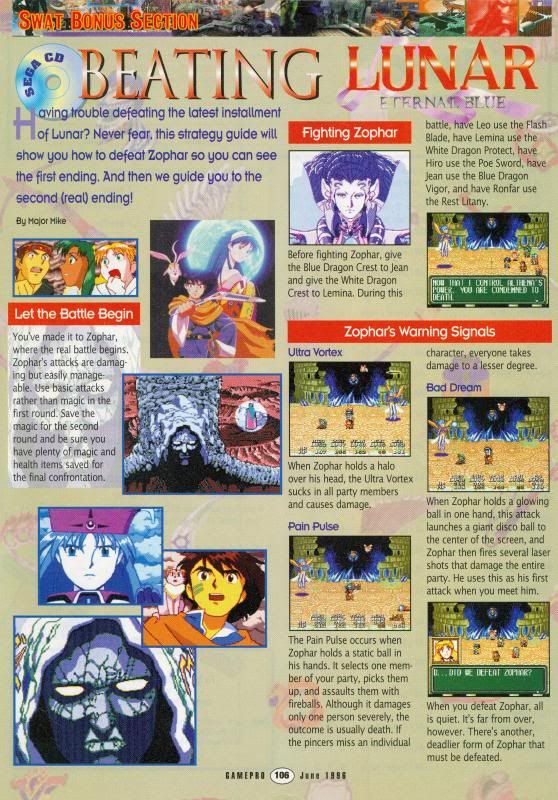 The scans are a tad rough on some of the edges because they did not separate well from the book. These here look small but the ones on the Photobucket are at a 5,000 pixel height, so if you go directly to the image on Photobucket they should be pretty large. I would suggest if you want these you grab them and save them in case for whatever reason down the line I inadvertently remove them from Photobucket.
I looked to see if maybe I have anything else LUNAR related that I saved, but it's just the common magazine ads that everyone has already seen plenty of times.